Commercial Analytics is more important than ever before. Today, nearly everything, from events, relationships, movements, transactions, and decisions are all evidenced by data. As the pace of technological advancement increases, it is essential for businesses to develop a data strategy for navigating the sea of data being generated, and, also for the preparation of future implementation of new technologies, like IoT and Artificial Intelligence. A firm's current and future competitiveness, profitability, and market share depend upon its real-time responsiveness to business and economic conditions. To successfully leverage data through analytics, a firm must collect the correct data, be able to locate it, and ensure the right people have it when they need it.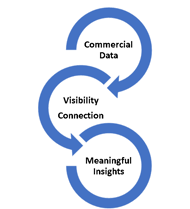 The business costs associated with the lack of a comprehensive data strategy can often be elusive. Incomplete data, employee time cleaning or finding data, lost sales, delays in access to data, lack of responsiveness to customer needs, poor decisions, and the inability to implement new technologies are all examples of costs that a firm can incur. These costs are often hidden and lurking within a business, making it difficult to see the value in developing and investing in a digital strategy.
The absence of a clear data strategy has several pitfalls. Enterprise data can be stored in employee's experience rather than a database. When employees leave, they take their knowledge with them and new hires are forced to perform duplicative work. Decision making can also be made retrospectively, either monthly or quarterly, instead of in real-time. Customer needs and behaviors are just as dynamic as the business environment, making timely responses to changes in behavior imperative. Any lag in data or analysis can be extremely costly for controlling variable costs and maximizing revenue. Further, incomplete and inaccurate data can be the foundation for decisions, leading to consistent errors or misguided assumptions. Continually relying on static systems without an overall strategy will only compound mistakes and lead to further declines.
The only way for companies to maintain a competitive edge in today's dynamic business environment is to treat the production, consumption, and transportation of data like a supply chain. Only then can increased productivity, efficiency, and responsiveness be achieved. The same strategy, planning, and development required for a lean supply chain is required for a firm's digital strategy. It is important to identify key metrics for a firm's success and to create visibility of the transactions, behaviors, and data affecting those metrics. Simply having the data is not enough, you must be able to connect the data in a meaningful way to create insights. Then, it is critical to transform any insights into actions and behaviors that create value.
This type of business transformation is not easy. It takes a clear strategy driven by leadership to overcome any organizational silos or resistance to change. Leadership must develop and define a vision of their firm's digital future and it must guide the planning, implementation, and automation of data processes. It is imperative to develop this vision for a company's digital transformation because it will likely be the difference in competitiveness and profitability as the pace of change increases and the next disruptive technology is created.